Update: SwiftDesk live chat is now available. Help your customers in real-time directly from your website.
2020 is fast approaching, and we're busy creating new ways SwiftDesk can help with your customer service. Here's what is coming in early 2020.
Live Chat
With the new conversation system already in place for email support, and Portals available to embed SwiftDesk into your website, live chat felt like a natural fit. Appearing as an option inside your embedded SwiftDesk Portal, the live chat feature will enable your customers to initiate a real-time conversation with you.
With live chat, you can provide immediate answers to your customers right while they are looking at your website, and considering your business.
Live chats appear in a separate section of SwiftDesk from your email conversations. We felt it was essential to create this distinction given the much more time-critical nature of live chat.
Audio and desktop alerts will let you know when a live chat has come in - so you can safely work in other applications with SwiftDesk running in the background.
SwiftDesk live chat will also detect your availability in real-time - so your customers will only see the live chat option when you truly have someone available to answer. If you miss a chat, we'll also automatically update your availability, so no further chats come through to you until you are back.
When no one is available to handle a live chat, SwiftDesk will stop showing the option in your Portals. Your customers will still see the option to send you a message for you to reply later, and to search your knowledge base (if you have one connected).
We have a working prototype of the live chat system already being tested internally, so we expect to have this completed very early in the year.
Multilingual Support
We're adding the option to create knowledge base articles in different languages so you can support customers internationally.
When interacting with your knowledge base, your customers will be able to switch between the available languages. SwiftDesk will also select the best default language based on the information sent from the customer's browser.
Once a language is selected, customers will only be able to see and search articles matching that language.
Multilingual support also works for internal knowledge bases. Applying this feature to your internal documentation ensures your global customer service team can still be referencing the same knowledge base.
Reply Templates
Reply templates will allow you to create template responses to customer inquiries. You will be able to reply almost instantly to your frequently asked questions, or to any inquiry where a specific, pre-approved response is required.
Templates will be attached to brands so that you can easily manage a relevant list for each business you are supporting.
Appearing in a dropdown within the reply editor, you'll easily be able to browse and select the best reply. SwiftDesk will even insert the customer's name to the template when it is known, saving you typing anything at all.
Blogs
We're also adding a feature to create a blog hosted on SwiftDesk. The blogging feature will let you instantly set up a blog, complete with search engine optimization and support for formatted content and inline images.
Our blogging system will offer a clean, minimal interface to make it incredibly easy to start publishing articles to promote your brand or business - or simply to share your thoughts with the world.
Check out the SwiftDesk blog or 4thPortal blog for examples of how an SwiftDesk-hosted blog will look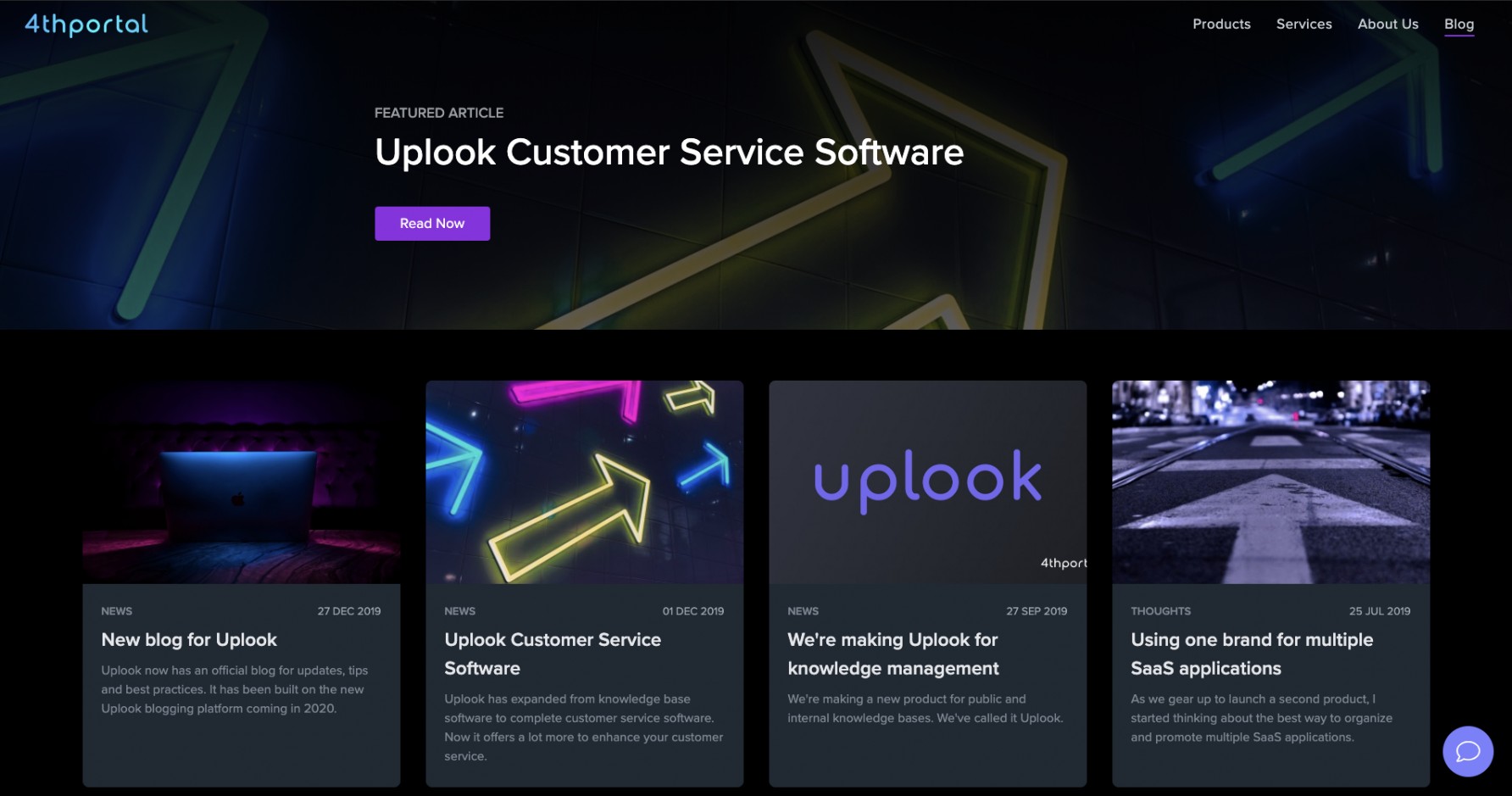 2020
These are just some of the major features we plan to release early in 2020. We also have lots of smaller enhancements lined up to take SwiftDesk forward as an easy to use, affordable, and reliable platform to help you support your customers.
Is there a feature you would like to see? Please let us know!